At Clarendale of Algonquin, we are honored to have an independent research organization, MemoryCare.com, recognize our highly specialized memory care neighborhood as one of the Best Memory Care Facilities in Crystal Lake for 2022. Based on 12 months of analysis across key care quality metrics, the group's data indicated the level of care offered our residents far exceeds generally accepted care standards.
"I'm so proud of Kami Tobey, our Director of Memory Care/Director of Life Enrichment and our entire staff of skilled, compassionate caregivers," says Peter Franken, Executive Director. "Of course I know our community offers exceptional care, but it's always an honor to have outside experts recognize it, too."
MemoryCare.com studied resident satisfaction ratings, community features, affordability and first-hand reviews from families to name their top memory care communities in Crystal Lake. Although Clarendale is located in Algonquin, our reach extends to the surrounding areas—including Crystal Lake. When awarding the title to Clarendale of Algonquin, they cited one particular review with a simple explanation:
Loved ones appreciate the sensitivity of staff during tough times at Clarendale. One reviewer writes, "Our family's experience with Clarendale of Algonquin has been outstanding from the time my brother and sister-in-law moved in June 2017. The entire staff has been loving and supportive through illness and loss."
MemoryCare.com is comprised of doctors, aging experts and medical experts, along with a Board of Directors consisting of community leaders who each care for a family member with dementia, offering first-hand knowledge of what caregivers need.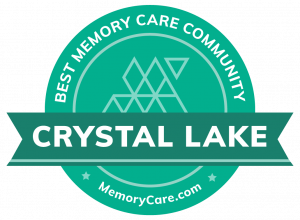 Clarendale of Algonquin specializes in care for individuals with Alzheimer's and other forms of dementia, featuring Heartfelt CONNECTIONS – A Memory Care Program®. Under the same roof, our community also offers the freedom of independent living and the added support of assisted living.
For more information about memory care at Clarendale of Algonquin, families may contact Colleen Straka, our Director of Sales and Marketing or Maureen Vande Logt, our Director of Community Relations. Both employees are passionate about helping seniors and their families find the right senior lifestyle solution.