A Friendly, Connected Lifestyle Where Neighbors are Familiar and Midwestern Values are Cherished…
Picture a down-to-earth approach to retirement—one where continuing the life you love simply comes natural to you. Although, you now have dynamic options that empower you to do whatever you want to do!
Here, you'll enjoy the privacy of a welcoming residence, but without the maintenance hassles, because Clarendale handles the household chores for you. Instead, you're free to spend time with family and friends—to travel, volunteer, pursue favorite hobbies and take on new life adventures.
Make Health & Wellness a Top Priority
Clarendale takes your good health to heart and focuses on all 8 dimensions of wellness with a wide range of activities as part of the Health & Wellness Navigation Program™.

Emotional Wellness
Opportunities for friendship, camaraderie, and meaningful relationships that are uplifting and affirm feelings of home and family.
Environmental
Wellness
Coming together to be good citizens of the planet, respect the environment, and manage resources effectively.
Health-Services
Wellness
Our signature programs including health and wellness navigation and EverSafe 360°, ensure the highest standards and protocols and safety.

Intellectual
Wellness
A commitment to lifelong learning and intellectual stimulation through classes, lectures, seminars, discussion groups, and outings.
Physical
Wellness
A focus on strengthening your body through exercise, nutrition, and stress management.
Social Wellness
Creating opportunities for socialization that lead to increased quality of life, feelings of belonging, increased mental function, and longevity.
Spiritual Wellness
Opportunities to nurture your spiritual journey through a variety of services and programs.

Vocational Wellness
Offering chances to contribute talents, wisdom, and experience to others through volunteerism, both on campus and in the surrounding community.
Choose a New Favorite Restaurant
Enjoy full-service dining anytime you wish with chef-prepared dishes and a Preferred Choice Dining™ monthly meal credits program that gives you the flexibility to use your credits for breakfast, lunch, dinner—or even to treat your guests.
Dining Room Bistro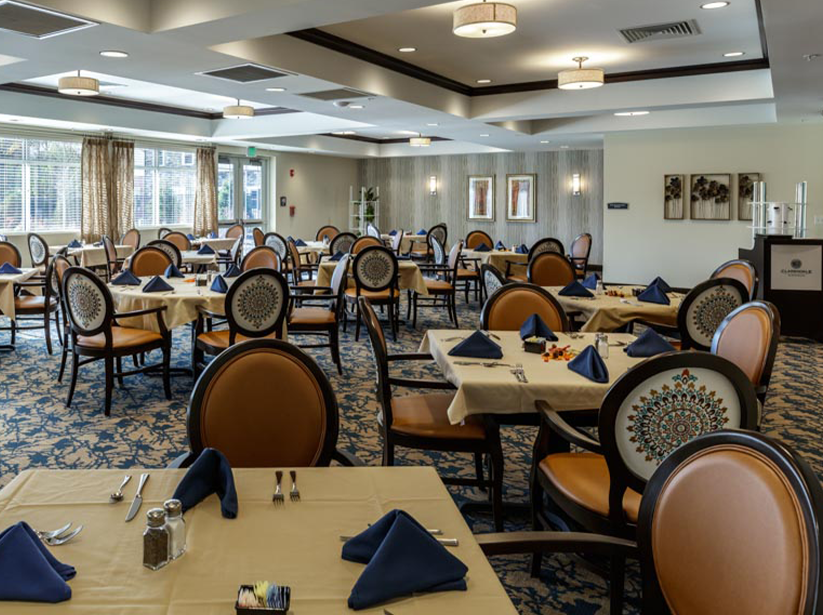 Fine Casual Dining

You'll find your mouth watering just thinking about the ever-changing menu of chef-prepared meals in the formal dining room. Let the culinary team treat your taste buds to regionally-inspired dishes sure to satisfy your palate.

That's not all! The private dining room is the ideal destination for personal parties and events honoring Clarendale residents with cause for celebration, including birthdays, anniversaries and family get-togethers. Catering services are available to make each event perfect.
Download a sample menu (PDF).
Popular Bistro Faire

You won't have to go farther than the bistro in the open foyer and gathering space to grab a great sandwich, homemade soup or fresh salad—prepared daily for dine-in or carry-out.

The Bistro is also a popular meeting spot for coffee and a sweet treat with friends. Plan to drop by mid-morning or mid-afternoon for a little caffeine pick-me-up and muffin, pastry, pie or cake!
Download a sample menu (PDF).
FAQs
An independent living community is the perfect place for seniors who are able to enjoy an active life and desire the total freedom of a carefree retirement lifestyle. Home maintenance and yard work become things of the past, and the community provides a wide range of services and amenities—including dining, a full calendar of social opportunities and entertainment, transportation, housekeeping, health and wellness activities, security and more—so residents can truly live the lives they want to live.
Of course. Our LifeSTYLE Promise® guarantees that you always have choice, flexibility and control over everything you do. Here, you'll have the freedom to stay connected to the area and be close to the ones you love, while at the same time enjoying all the advantages of residing in a friendly and welcoming senior living community that nourishes your well-being and supports the interests and passions that bring meaning to your life.
Sometimes people think they'll have to give up something when moving to senior living, but the only thing you'll really have to forget is routine maintenance. So many services are provided with your move—lawn care; grounds maintenance; complete maintenance of your residence; chef-prepared, restaurant style dining; a full calendar of social, recreational and educational activities; health, wellness and fitness opportunities and guidance; transportation; round-the-clock security; and lots more.
No, Clarendale is a senior living community offering independent living for active seniors, plus assisted living and memory care for residents who need added support. Nursing homes typically provide 24/7 skilled nursing for seniors who require around-the-clock care.
Yes! Clarendale is a pet friendly community. We know that "you just wouldn't be you" without your beloved pets. They're like members of your family, and here, family is always welcome!
"My Mother moved in about two weeks ago. Their dining food is excellent! The nurses and the Care Assistants keep me informed on her medical progress, care and activities she is doing. I would highly recommend Clarendale."
"Clarendale has been a great home for my mom. I just left Peter's office and I am ecstatic he runs the show there. He walked in and said hello to us during lunch and him and my mom went on and on like Archie and Edith."
"I enjoy living here. The staff is very easy to work with—pleasant and helpful with all my questions and requests. I would recommend Clarendale to anyone I know."
—Testimonial from Lorraine
"The staff made the process very smooth for my mom to move in. Everyone was very kind and welcoming. They have a great staff with very good communication! My mom just loves Clarendale!"
"The community is lovely, offers much to do, and my parents' apartment has everything it needs. As their daughter, I appreciate all the love, respect and help that the Clarendale staff has provided my parents. The quality of care is OUTSTANDING!"
"Thank you, Clarendale. My aunt and uncle have been treated with such kindness and compassion by every one of your staff. It was such a difficult transition moving from their home of many years. Soon, they loved their new home and all you offer."
—Testimonial from Jennifer
Still have questions about independent living at Clarendale of Algonquin?
Contact the senior living experts at Clarendale directly by calling or scheduling a visit.
Contact Our Team