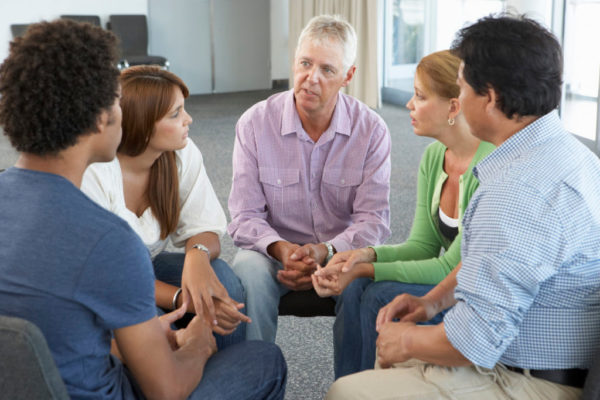 Caregiver Support Group – February
February 15, 2023
< Back to all News & Events
If you're one of the more than 11 million Americans providing care for a loved one with Alzheimer's or another form of dementia, Clarendale of Algonquin hosts a support group for you.
Developed in concert with the Alzheimer's Association, the Dementia Caregiver Support Group at Clarendale of Algonquin is held the third Wednesday of each month. Scheduled from 6:30 to 8:30 p.m., at 2001 West Algonquin Road in Algonquin, the meetings are open to the public.
A Safe Place to Share Concerns
"This monthly group session is a safe place to exchange practical information on caregiving challenges," says Kami Tobey, CDP, Director of Life Enrichment and Memory Care at Clarendale. "It is comforting and reassuring, because it validates feelings. Caregiving can be a lonely endeavor, but minutes into the meeting, you'll quickly discover, you are not alone."
In fact, when attendees learn there are others in their shoes—families expressing the very same concerns and feelings—it's a revelation. We often hear: "Oh, my gosh, it's not just me!" And since this is the only dementia support group meeting in the McHenry County area, it's often followed by: "Thank God you offer this!"
A Dynamic Meeting and Agenda
The dynamics of the group can vary greatly—depending on individuals who choose to attend that month's meeting. Group sessions range in size from as few as eight attendees to as many as 18. You'll find each Dementia Caregiver Support Group meeting begins with brief introductions from everyone—sharing why they're attending and who they care for with dementia.
With introductions complete, the meeting agenda provides an opportunity for attendees to voice concerns with the group—common issues others may be facing, too. Don't be surprised when you get advice from others like you—as well as from the experts.
According to Tobey, "The journey is the same. The walk is different."
An Avenue for Practical Solutions
You'll find solutions in simple, practical tips from the experts. For example, when a loved one with dementia is frustrated and combative, stepping away for 20 minutes may make all the difference. The agitation often passes, and the distraught individual becomes more calm and cooperative minutes later.
Solutions may require us to change our own mindset. Tobey points out, "Many caregivers don't want to lie to loved ones with a memory disorder, but we know that loving little lies can be good lies."
Case in point: one Clarendale of Algonquin resident was a retired judge who routinely woke up and demanded to go to court. Instead, our caregiver employed a creative solution. She turned up the volume on her cell phone so it rang, and she relayed a pretend conversation. "All court appearances are postponed today, Judge, so let's go to breakfast and wait for a return call with the new schedule."
Another resident's husband died of a heart attack, and she repeatedly relives the tragedy. Rather than insisting that their mother understand and accept that their father is gone, Clarendale of Algonquin recommends the family validate Mom's feelings and redirect her thoughts to more pleasant topics of discussion and relaxing activities.
A Forum for Effective Strategies
Cuing thoughts and behaviors plays an important role in caring for a loved one with dementia. Redirecting attention and action to more positive behaviors is not always simple, but it's effective. Structure also is critical in caring for a loved one with dementia. Establishing routines helps them stay secure, relaxed and comfortable. Simply, getting into their world and understanding it is key.
The Dementia Caregiver Support Group sessions offer practical strategies based on Heartfelt CONNECTIONS – A Memory Care Program®. A full 60 minutes of the two-hour meeting agenda is devoted to training tips, tools and techniques proven to be effective in the memory care neighborhoods at Clarendale of Algonquin.
"Rather than taking for granted the memory care knowledge we have, we're sharing it," Tobey explains.
Each month, the group focuses on one of the Heartfelt CONNCECTIONS discussion modules used to train professional caregivers. Topics range from effective communication to managing behaviors when caring for a loved one with a memory disorder.
"Family caregivers struggle with the notion of changing the way they've interacted with their parents their entire lives," says Tobey. "But with a diagnosis of Alzheimer's or other dementias, it's essential. Adult children have to learn to inhabit their loved one's world to treat them with compassion, understanding and empathy. It's not easy, but they must find a new way to love them."
The Dementia Caregiver Support Group is designed to help. It offers a safe place and welcoming forum for discussing concerns, finding solutions and sharing strategies to help you care for your loved one. Join us!
Dementia Caregiver Support Group
Details-at-a-Glance
When: Third Wednesday of Each Month ▪ 6:30 to 8:30 p.m.
Where: 2001 West Algonquin Road ▪ Algonquin, IL 60102
Sponsor: Alzheimer's Association, Rockford Chapter
RSVP to Clarendale of Algonquin by calling 847-458-6800 or by sending an email to ClarendaleofAlgonquinLIFE@ClarendaleofAlgonquin.com.