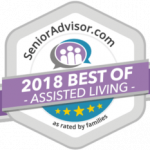 Algonquin, Illinois (January 3, 2017) – Clarendale of Algonquin is proud to announce that they have won a 2018 Best of Assisted Living Award from SeniorAdvisor.com, the largest ratings and reviews site for senior care and services in the U.S. and Canada.
Of the nearly 45,000 communities currently listed on SeniorAdvisor.com, just over 1,600 were recognized with the award. Open just over a year, Clarendale of Algonquin has already earned a name for itself as one of the area's only winners.
"Winning this award is such an honor because it represents positive feedback from the residents who live here and the families who've entrusted their loved ones to our care," said Executive Director John Jorgenson. "To win the award in the first year since we opened our doors at Clarendale is even more special—because it says we're doing things right. Our entire staff couldn't be more proud."
To qualify for inclusion in the Best of 2018 Awards, care providers must have maintained an average overall rating of at least 4.5 stars while receiving four or more new reviews in 2017.
More than 150,000 user-created reviews on SeniorAdvisor.com were tabulated to find the winners. Clarendale of Algonquin consistently ranked high, with many 5-star verified reviews
like this one:
"From the moment I walked in the door I knew Clarendale was a special place. It is truly beautiful and welcoming. The staff is amazingly friendly and supportive. They not only treat the residents like family, but care for the family as well. The activities, food and entertainment are all well-planned and exciting to look forward to. I would highly recommend them because they are the best place out there; so thankful I found Clarendale."
"As SeniorAdvisor.com's 'Best of Senior Living' awards enters its fifth year of honoring the top family-rated communities and care providers, we are proud to say that the bar has been raised," said Eric Seifert, President and COO of SeniorAdvisor.com. "In order to ensure only the best communities and care providers win, we decided to make the criteria harder than ever and we saw over 1,600 winners rise to the occasion."
Award-winning Clarendale of Algonquin is located on 9.5 acres at 2001 West Algonquin Road, just east of Randall Road. In addition to all-new assisted living apartments and care, the community offers independent living and memory care under one roof.
According to Jorgenson, "At Clarendale, the emphasis is on services and programs that provide the opportunity to stay a part of, and involved in, mainstream living, as well as fostering relationships with family and others outside the community. In other words, we are focused on keeping residents connected to the people, places and things they most enjoy."
For a simple monthly fee, the all-inclusive senior living community offers the benefits of what Jorgenson calls "village-style retirement living" with access to community spaces for socializing and entertaining, including multiple dining venues, a cocktail bar and billiards lounge, theatre room, full-service salon and fitness/wellness center.
To read Clarendale of Algonquin winning reviews, seniors and families can go to SeniorAdvisor.com—or contact the community directly at (847) 458-6800 or online at ClarendaleofAlgonquin.com. The community is managed by Life Care Services®, An LCS® Company.
 About Life Care Services
Life Care Services, An LCS® Company, established in 1971 and based in Des Moines, Iowa, is a leading manager of senior living communities. Life Care Services currently provides operations management and marketing and sales management for not-for-profit and for-profit continuing care retirement communities (CCRCs), stand-alone assisted living, memory care, and rental communities nationwide. For more information, visit lifecareservicesLCS.com.
About SeniorAdvisor.com LLC
SeniorAdvisor.com is the largest consumer ratings and reviews site for senior living communities and home care providers across the United States and Canada with over 150,000 trusted, published reviews. The innovative website provides easy access to the information families need when making senior care decisions, and features reviews and advice from community residents and their loved ones. For more information, please visit www.SeniorAdvisor.com or
call (866) 592-8119.